Product Description
Sandwich panel is a new multi-function construction material for construction and decoration with the advantage of insulation, with fire proof and decoration. It is mainly used for public construction, like industrial workshop, supermarket, bulk warehouse, large span roof, and prefabricated house, different kinds of cold storage, air condition room, decontamination chamber, and communication base station.etc. Sandwich panel has been an ideal new construction material with the advantage of high intensity, beauty, easy to construct in a short time.
Expanded polystyrene is white and lightweight product with superb water-proofing, thermal insulation, soundproofing and also buffering properties, and also our Expanded Polystyrene Sandwich Panel Producing Equipment, using it as insulator, is the automation devices that can constantly and successfully create expanded polystyrene sandwich panels of elegant as well as diverse forms.
Our expanded polystyrene sandwich panel assembly line(EPS sandwich panel line) is currently identified its worth by major sandwich panel producing business at domestic and also foreign with numerous technological looks into and a high degree solutions, SUOFU will keep trying for growth based on customer's needs for the high quality sandwich panels. Our EPS constant production line is developed to create the panels for usage in roofing and also walls, such as cold storage, general storage space, manufacturing facility structures, momentary buildings, erected structures that can produce one of the most cost-effective way.
In this regard, SUOFU can give an unique as well as differentiated service to all our customers that supplying assembly line in addition to various techniques and also expertises which are extremely valuable to preserve and operate the equipment in real job site.
Main Specification of our Automatic EPS Sandwich Panel Production Line
Composition of EPS Sandwich Panel Line
| | |
| --- | --- |
| Step 1. | Decoiling system |
| Step 2. | Roll forming system |
| Step 3. | EPS board feeding system |
| Step 4. | Adhesive(glue) system |
| Step 5. | Laminating system |
| Step 6. | Cutting system |
| Step 7. | Cooling system |
| Step 8. | Stacking system |
| Step 9. | Wrapping system |
Speed of product line: 4- 12m/min( frequency conversion to adjust speed, related with glue quality ).
The producers of single shift need to be 6-8 people .
Requirement of workshop: 60m*10m*6m(length*width*height).
Thickness of the panel: 40-200mm . Thickness of steel : 0.3-0.8mm.
Width of the panel: Roof panel: normally 950-980mm. Wall panel: 950-1200mm .
Material: Both sides are PPGI or GI , core is EPS / styrofoam or rockwool insulated board .
EPS Sandwich Panel Machine main structure features and advantages
Structural Features
1) This EPS sandwich panel making machine has the specification: good look, reduced noise and high effectiveness.
2) The EPS sandwich panel production line is welded by H-beam with shot blasting therapy on the surface, so the whole structure is straightforward and also steady.
3) Consecutive laminating body transmission adopts worm as well as worm gear in order to control the creating speed continuously. The consecutive laminating body can cut to size with the innovative frequency control.
4) Three teams heating unit to adjust the environmental temperature in various areas.
5) Glue Providing system is driven individually. The horizontal substance, glue equally, without any contamination.
6) Consecutive laminating body is long to assure the flatness of the sandwich panel.
7) The relocating stroke of the cutting system is long to prolong the life of the cutting device.
Advantages
1、 High Automation:
Full PLC computer integration controlling system with digital servo, frequency conversion vector and hydraulic controlling technology, user-friendly design and easy operation.
2、Advanced Technology :
Designed by advanced technology, uncoiler of Our sandwich panel machine do not need to be moved during exchanging production for wall panel and roof panel .
This will save production time for moving and adjustment, more importantly, will avoid the deviation caused by inaccuracy adjustment of uncoiler position.
3、Excellent Machine Frame:
6mm thickness steel treated by NC grinding process, ensures the machine frame with high-hardness , none deformation ,longer-lifetime, and more stable for producing high quality sandwich panel .
4、 Scientific Roll Forming System :
Bearing steel with several chrome treatment guarantee the rollers of roll forming machine for permanent use without replacement.11m longer length roll former with 13-14 couples of stations will achieve more forming times for high accuracy metal sheet profiles.
5、Considerable Laminating Design :
More rollers are considerably designed for laminating machine, to achieve the better adhision between metal surface and insulated core material.
Roller quantity of EPS sandwich panel laminater : Longer type with 28 stations of up and down rubber roller , will be good for the final sandwich panel quality and this design is also suitable for making Rockwool sandwich panel in the future .
6、Advanced Band Saw Cutting Machine :
Compared with disc cutting machine , new advanced band saw cutting machine can cut panel faster , more beautiful , less rough of the cut edge , can be more protect worker finger while carry the sandwich panel and during construction .
Contact us for EPS sandwich panel machine price! Or contact us for more information about other sandwich panel production machinery/line.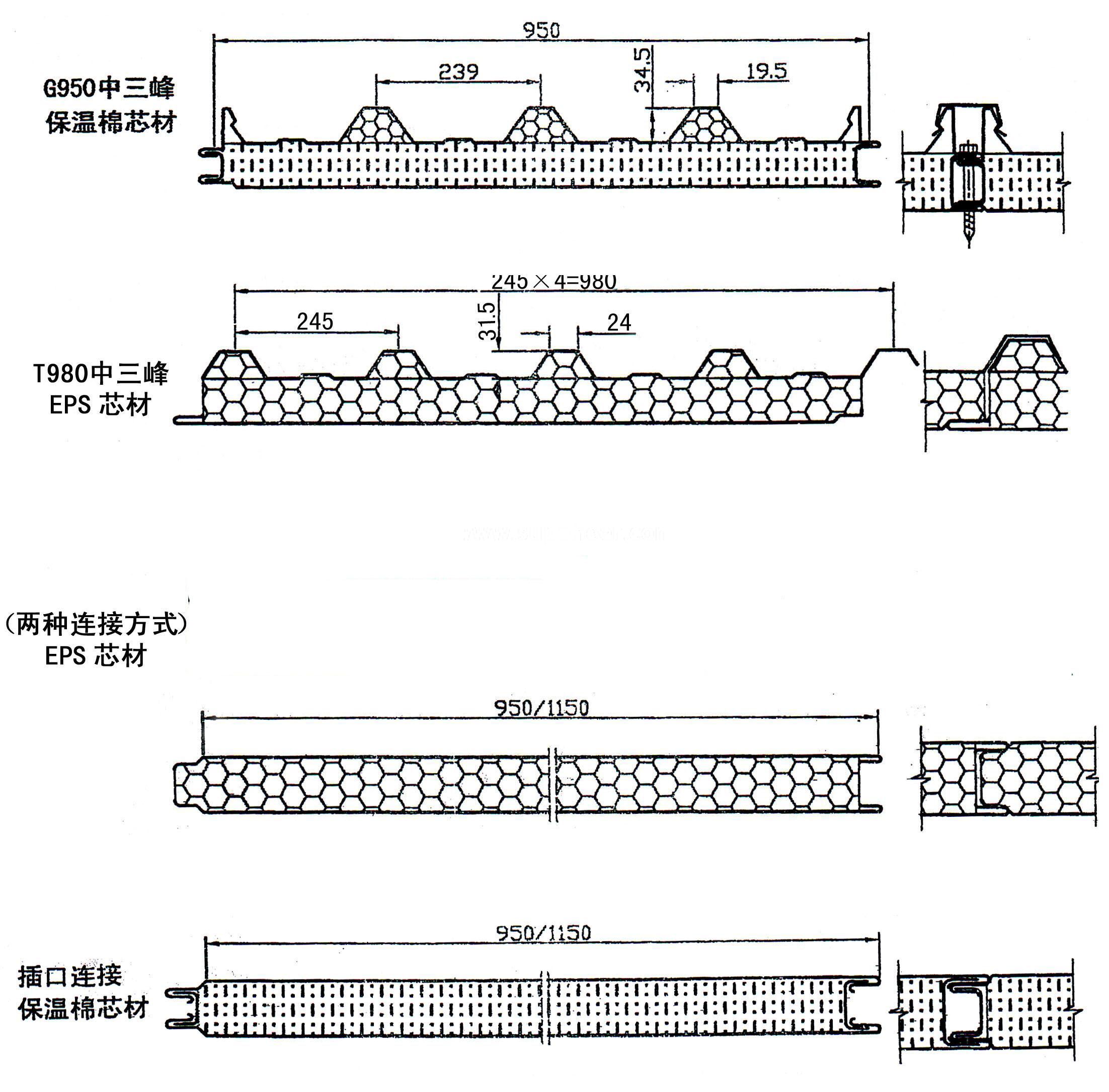 Problems you may be worried about!
What are the highlights of EPS sandwich panel machinery?
The highlight of EPS sandwich panel machinery is that our maker can create a sandwich panel of terrific quality, including flame-retardant and sound insulation. Its manufacturing procedure is also environment friendly and effective.
What are the technical advantages of the EPS sandwich pane production line?
The production equipment has a very incorporated and linkage control system, which centralizes all control factors. Generally, the nerve center recognizes the parameter link and mistakes self medical diagnosis of the complete line control and the procedure control. A high degree automation control system also saves the workforce and minimizes human resources loss for consumers.
How about the energy consumption of the EPS sandwich panel assembly line?
Our items are made with high power and reduced power consumption. The production line has a fast response and also low energy intake. We take on a new, wholly enclosed inner insulation design to manage the energy usage to a reduced degree.
What machines does the EPS sandwich panel machine line have?
EPS sandwich panel line contains Feeding System, Roll Forming System, EPS directing and feeding system, Heating system, Laminator, Glue Providing System, EPS Slotting Device, and Cutting System.
What's the raw material of the EPS sandwich panel line?
EPS core material: density is ≥ 18kg/m3, unstraight of each side ≤ 1mm/m, contour ≤ 3mm/m, surface be also, unevenness smaller than 1.5 mm/m, EPS material single item length more than 3m.
What's the feature of the EPS sandwich panel line?
EPS sandwich panel line: Through this sandwich panel line, corrugated sandwich panels can be generated directly, without the imperfection that the traditional corrugated sandwich panel needs to be laminated flooring manually after forming a corrugated sheet. Additionally, both the roll-developing equipment as well as the laminating system can work separately.
What's the operating speed of the EPS sandwich panel production line?
EPS sandwich panel line: 1-6m/ minutes.
For how long is the installation as well as commissioning period for the EPS sandwich panel assembly line?
EPS sandwich panel line: 20-30 days; The client needs to prepare the structure and devices in advance.
What items can the EPS sandwich panel assembly line generate?
With different combinations, setup selection, and easy switching, our production line can conveniently generate roofing system sandwich panel, wall surface sandwich panel, cold store sandwich panel, and other items automatically. The internal core layer can be polyurethane, rock wool, glass wool, and other various selections.
What type of sandwich panel machinery is required to generate a variety of sandwich panels?
It can generate trustworthy products according to consumer's needs with numerous designs and a range of arrangements. It can rapidly meet client demand, and the price system is additionally adaptable.
Will the EPS sandwich panel machinery equipment be easily influenced by temperature?
Our tools are made with a high degree of power-saving and security, to ensure that the entire assembly line has the possibility of all-weather production in 4 seasons, which would undoubtedly conserve the allocate our customers.