Product Description
Our Machine Advantage
1、 High Automation:
Full PLC computer integration controlling system with digital servo, frequency conversion vector and hydraulic controlling technology, user-friendly design and easy operation.
2、Advanced Technology :
Designed by advanced technology, uncoiler of Our sandwich panel machine do not need to be moved during exchanging production for wall panel and roof panel .
This will save production time for moving and adjustment, more importantly, will avoid the deviation caused by inaccuracy adjustment of uncoiler position.
3、Excellent Machine Frame:
6mm thickness steel treated by NC grinding process, ensures the machine frame with high-hardness , none deformation ,longer-lifetime, and more stable for producing high quality sandwich panel .
4、 Scientific Roll Forming System :
Bearing steel with several chrome treatment guarantee the rollers of roll forming machine for permanent use without replacement.11m longer length roll former with 13-14 couples of stations will achieve more forming times for high accuracy metal sheet profiles.
5、Considerable Laminating Design :
More rollers are considerably designed for laminating machine, to achieve the better adhision between metal surface and insulated core material.
Roller quantity of EPS sandwich panel laminater : Longer type with 28 stations of up and down rubber roller , will be good for the final sandwich panel quality and this design is also suitable for making Rockwool sandwich panel in the future .
6、Advanced Band Saw Cutting Machine :
Compared with disc cutting machine , new advanced band saw cutting machine can cut panel faster , more beautiful , less rough of the cut edge , can be more protect worker finger while carry the sandwich panel and during construction .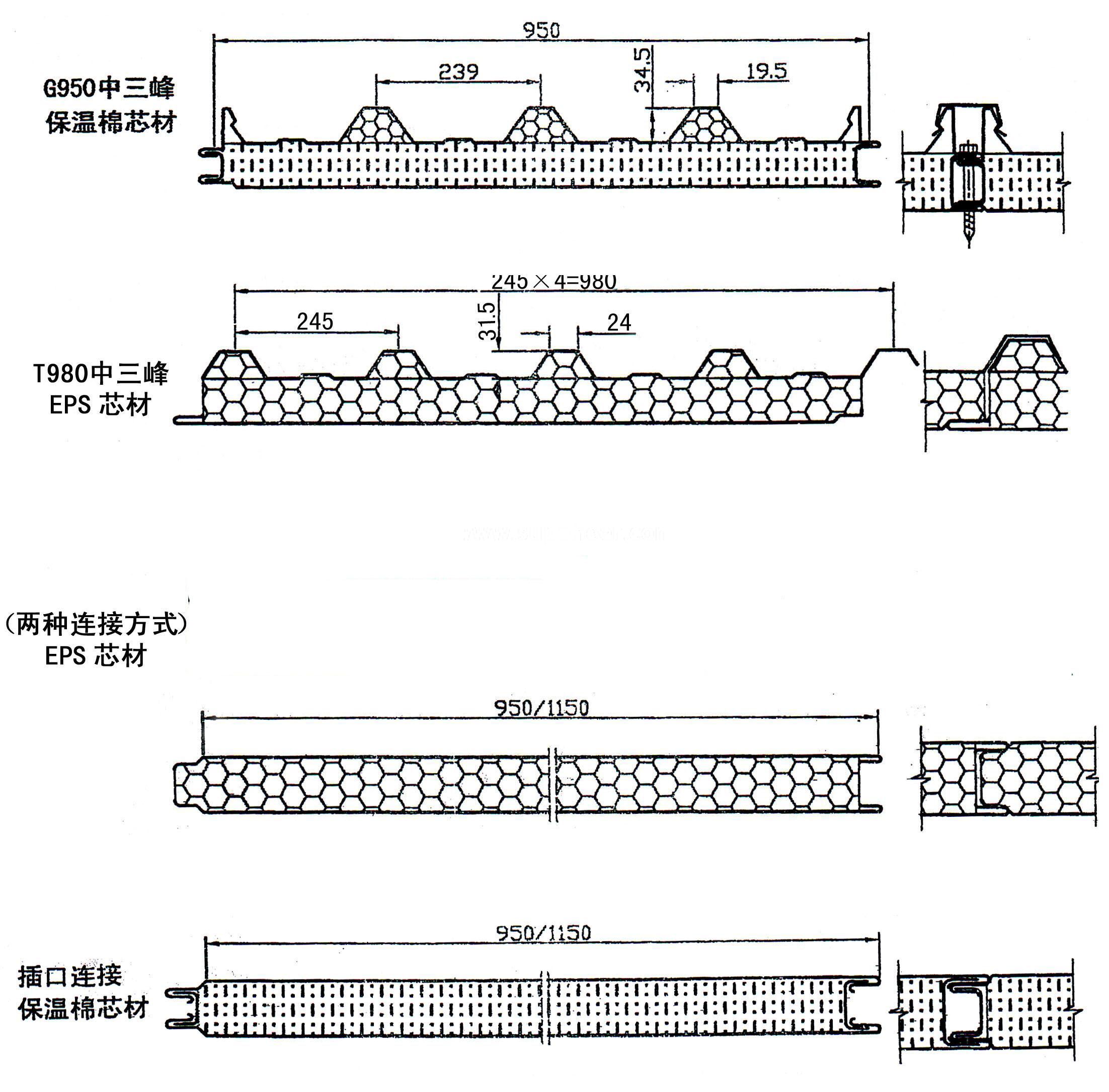 Main Point
Main points of our Automatic EPS Sandwich Panel Production Line:
l Speed of product line: 4- 12m/min( frequency conversion to adjust speed, related with glue quality ).
l The producers of single shift need to be 6-8 people .
l Requirement of workshop: 60m*10m*6m(length*width*height).
l Thickness of the panel: 40-200mm . Thickness of steel : 0.3-0.8mm.
l Width of the panel: Roof panel: normally 950-980mm. Wall panel: 950-1200mm .
l Material : both sides are PPGI or GI , core is EPS / styrofoam or rockwool insulated board .
Sandwich panel is a new multi-function construction material for construction and decoration with the advantage of insulation, with fire proof and decoration. It is mainly used for public construction, like industrial workshop, supermarket, bulk warehouse, large span roof, and prefabricated house, different kinds of cold storage, air condition room, decontamination chamber, and communication base station.etc. Sandwich panel has been an ideal new construction material with the advantage of high intensity, beauty, easy to construct in a short time.