Product Description
Automatic Guided Transport Vehicle / Mecanum Wheel AGV Introduction
Automated Guided Vehicle-AGV (Automated Guided Vehicle) refers to a transport vehicle equipped with electromagnetic or optical automatic guidance devices that can travel along a prescribed guide path, with safety protection and various transfer functions. Mecanum Wheel AGV is one of the important components of AGV. AGV belongs to The category of Wheeled Mobile Robot (WMR-Wheeled Mobile Robot). A truck that does not require a driver in industrial applications, and uses a rechargeable battery as its power source. Generally, it can be controlled through a computer to control its travel route and behavior, or use an electromagnetic path-following system to set up its travel path. The electromagnetic track is glued to the floor, and the driverless follows the electromagnetic track. The message carries the transporter that moves and moves.
Mecanum Wheel AGV Body
AGV body is made of a high-strength steel integrated welded frame, which is welded by a large plate. Through the experience of many cases in our company (shown in Figure 2), this type of frame has high rigidity and good stability, and the weight of the whole machine is easy tocontrol.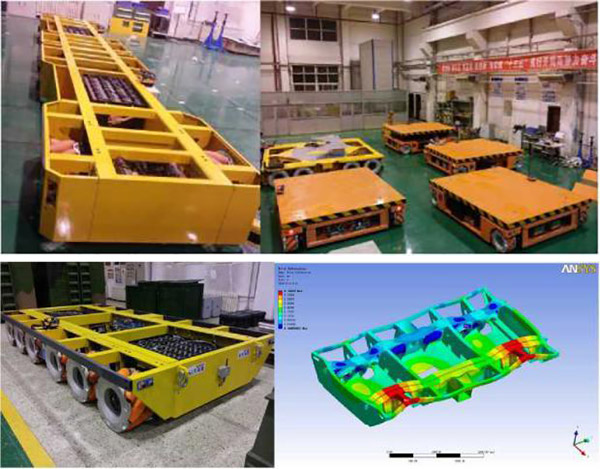 Mecanum Wheel AGV
The wheel is 450mm mechanical wheel with a single wheel bearing 3T, which has been successfully applied in many projects.

Balance Suspension
Mecanum Wheel AGV uses a hydraulically balanced suspension. Each set of Mecanum wheels is equipped with a suspension module that allows the AGV to adapt to uneven ground and 80mm lift.
Comprehensive Control Box
The comprehensive control box is the control center of the whole vehicle. It adopts the high-speed CAN bus control architecture and realizes the real-time monitoring of the control and status of each drive shaft motor through the CANOPEN protocol. The electrical system uses strong and weak electricity separation, and each module is concentrated in a box.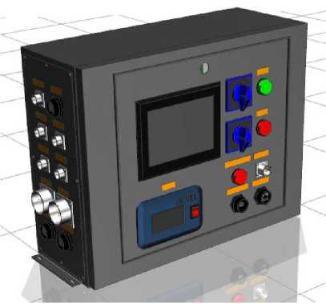 Power Battery Box
Power battery box uses a large-capacity, maintenance-free, long-life lithium iron phosphate battery pack that provides up to 1C of discharge capacity with a cycle life of up to 1500 cycles and does not require regular acid replenishment like a lead-acid battery.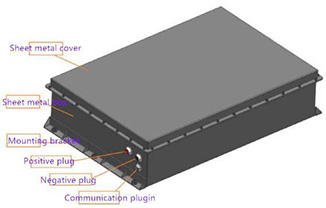 Remote Control System
Remote control system consists of a hand-held transmitter and a vehicle receiver for manual remote control of the chassis driving control. The remote control can be connected to wired control when it is not powered by battery. The handheld remote control has both wireless and wired dual use modes. The wireless mode is automatically turned off when wired operation is used.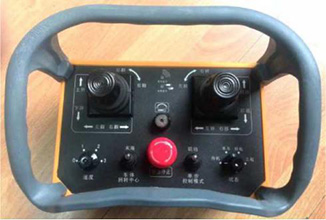 Safety Control System
The vehicle is equipped with sound and light alarm and emergency stop modules, and flash alarm and sound prompts are executed during the entire vehicle walking. At the same time, in an emergency, take the four corners of the emergency stop button
Car and remote control, the whole vehicle stops. According to the standard, and directly implemented in the hardware loop to improve product safety.
Warning signs and colored reflective strips have been set up at important locations of the vehicle, even if the ambient lighting is insufficient.
The safety scanner is installed around the vehicle. Using SICK's patented HDDM technology. TIM series products can reliably detect
Black objects, the ability to detect small objects and resist ambient light is better than similar products. When an obstacle is detected
When the vehicle is walking, it will slow down and stop according to the setting, and block the movement in the corresponding direction. In addition, perform non-contact obstacle avoidance.
The vehicle power distribution system is equipped with leakage protection, overcurrent protection, and overvoltage protection. At the same time, an anti-static tow cable is installed to prevent static electricity during operation.

Positioning Navigation Module
positioning navigation module is used to ensure that the Mecanum Wheel AGV travels to a specified coordinate point along a specified trajectory, reducing the operator's work intensity and improving the level of equipment automation. The positioning navigation module is mainly composed of a visual positioning navigation sensor read head, which automatically recognizes the navigation ribbon and the two-dimensional code, and can realize the "point-to-point straight line" navigation according to the path preset by the customer, and can also recognize other complicated paths for automatic driving.

Mecanum Wheel AGV Related Technical Parameter Table
NO.
Item
Parameter
Remarks
1
AGV size (length X width X height)
4200mm*1800mm*550mm


2
Loading capacity
15Tons


3
Driving speed
0~24m/minute Stepless speed adjustable
Equipped with remote control
4
Chassis lifting stroke
80mm
Suspension have
5
Full load climbing ability
5%


6
Endurance
8 hours (full load 4 hours, no load 4 hours)


7
Chassis height from the ground
20mm
Height of the ground can be adjusted bythe chassis lifting
8
Number of wheels
8


9
Mobility
Omnidirectional movement (including omnidirectional translation, center-to-centerrotation, and any form of composite motion)
10
Wheel form
McNamm Wheel


11
Suspension form
Balance suspension


12
Operational form
Navigation / remote control


13
Navigation form
Visual navigation (ribbon + QR code)


14
Navigation accuracy
±10mm


15
Energy forms
Large capacity lithium battery


16
Minimum turning channel width
3.5m


The Guidance Method of Mecanum Wheel AGV
1. Electromagnetic induction guidance. The electromagnetic field formed by the low-frequency guide cable and the electromagnetic sensing device are used to guide the operation of the unmanned guided vehicle.
2. Laser guidance. The laser scanner is used to identify several fixed signs set in its range of motion to determine its coordinate position, thereby guiding the operation of the AGV.
3. Magnet-gyro guidance. Use a special magnetic position sensor to detect small magnets installed on the ground, and then use gyroscope technology to continuously control the running direction of the unmanned truck.
Let robot smarter service for world.
AGV customized electric remote control rail transfer car is designed for transporting heavy cargoes or equipment from one bay to anther in factory, It can be used indoor or outdoor the fields include metallurgy,foundry, new factory construction and ship building and soon with different styles and standard capacities up to 300 tons, we have the solution you need and each style can be designed for your specific application.
Mecanum Wheel AGV Program
The 15 ton bicycle carrying AGV adopts the omnidirectional mobile platform series developed by our company. The AGV size is 4200mm X 1800mmX 550mm, and the 450mm diameter Mecanum wheel (3T single wheel load) 8X8 independent drive realizes the full transfer of the transport vehicle in 2D plane. Move to.
Each of the AGV's Mecanum wheels is equipped with a hydraulic balance suspension that can accommodate the impact of uneven ground on the vehicle body and achieve a certain height of lift.
The control system adopts a high-speed CAN bus control architecture to realize real-time monitoring of the control and status of each drive shaft motor through the CANOPEN protocol.
Set the emergency stop switch and the three-color sound and light alarm light at the four corners (set an emergency stop button on the remote control), press any emergency stop button, the AGV stops immediately, and the three-color sound and light alarm light passes through different colors and intermittent bees. The user is prompted to work differently in the AGV. A laser safety scanner is installed on each of the four sides for non-contact obstacle avoidance of the AGV.
The system is equipped with a navigation and dispatching system. The AGV is equipped with a visual positioning sensor at the bottom for AGV path planning and scheduling and navigation. It is also equipped with a wireless remote control for emergency wireless or wired operation of the AGV.